emoji art
Pictorial symbols are one of the oldest forms of human expression. emoji – today's visual language – are international images embedded in our cultural behaviour and communication, often replacing gestures and words in digital conversation.
In recognising the significance and playfulness of how we relate to each other in the digital age, Schwenk will work with local communities to create 'emoji art' using human bodies. These performances, like emoji, will connect people and enhance communication across cultural and language barriers.
Sylvia will hold a workshop with each the local community to develop an emoji that reflects The community. This emoji and one of the most popular emojis of yearswill be presented as a work of socially engaged performance art.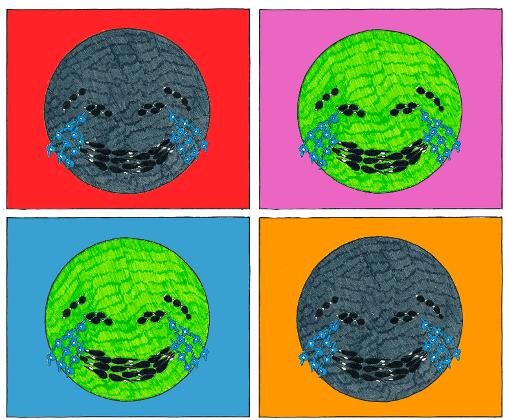 Schwenk, Artist impression, 'tears of joy: emoji art', 2017
Workshop: 7 September at 7pm In the one hour workshop, Sylvia will work with the local community to develop an emoji that reflects Schöppingen. All parts of the community are invited to come together to brainstorm and design this emoji. (All drawing materials are provided). Where: Fotoscheune Galerie, Stiftung Künstlerdorf Schöppingen.
Performance in the public space: 21 September at 6pm The Schöppingen emoji created in the workshop and the one of most popular emojis of 2016 will be created using the bodies of the community in a work of socially engaged performance art, directed by the artist. Where: on the green field next to the St Nikolaus Kindergarten, Schöppingen.
JOIN IN! You are invited to be a part of this project. If you would like to participate in the workshop and/or the performance (all ages welcome) please contact the artist by email: mail@sylviaschwenk.com, or telephone: 0176 288 76469.
This work is being supported by: