Sylvia Schwenk - Anja's reality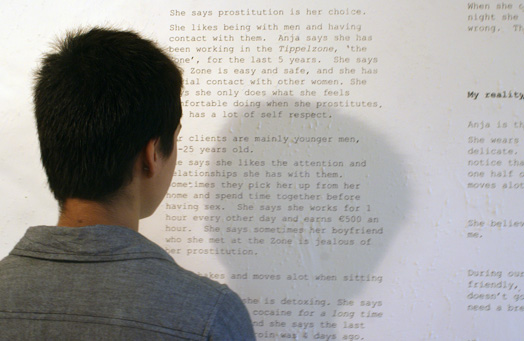 Schwenk, Anja's reality, 2009 (photo of installation, New Delhi India, detail)
Anja's reality

Anja says she is 32 years old, born in the month of June.
She says she likes to play guitar and has been playing since she was 16 years old. She says she owns 14 guitars. She likes Neil Young, the blues and likes to read. She says she has a social science degree.

She says prostitution is her choice.
She likes being with men and having contact with them. Anja says she has been working in the Tippelzone, 'the Zone', for the last 5 years. She says the Zone is easy and safe, and she has social contact with other women. She says she only does what she feels comfortable doing when she prostitutes. She has a lot of self-respect.

Her clients are mainly younger men, 20-25 years old.
She says she likes the attention and relationships she has with them. Sometimes they pick her up from her home and spend time together before having sex. She says she works for 1 hour every other day and earns €500 an hour. She says sometimes her boyfriend who she met at the Zone is jealous of her prostitution.

Anja shakes and moves alot when sitting down.
She says that she is detoxing. She says she hasn't used cocaine for a long time (about 1 week) and she says the last time she took heroin was 4 days ago. She says in 3 days she will be fully detoxed.

Anja says she started a business 4 months ago.
The business is called Ana and it provides reintegration services, reintroducing people into the workforce. She says she has around 150 clients and that she prostitutes herself to help cover her start-up costs. She says her business will earn €200,000 this year. She says she is cutting down on prostitution to focus more on her business.

Her dream is:
to make her business a success
to have a house, a tree and a little animal

The caretakers' reality

The caretakers, who are the social workers in the Zone, say that Anja works on the street until 11pm and then comes to the Zone almost every night.
She starts her night at the Zone with a coffee in the Keet (a container in the Zone), and she is pleasant. As the night progresses her mood changes.
When she comes into the Keet late at night she is not good. Everything is wrong. There are not enough clients …



My reality

Anja is thin and tall, with long hair.
She wears light makeup. She is delicate. When she starts talking you notice that her teeth are missing on one half of her mouth. She shakes and moves a lot.

She believes everything that she tells me.

During our 3 hours together she is friendly, focused and coherent. She doesn't go to the bathroom and doesn't need a break.

When we go shopping together, she becomes radiant.
She is excited and tries on at least 8 different items of clothing. She invites me into her change room to see how the clothes fit. She is so thin, that size 6 clothes hang loosely off her waist and hips. She buys a pair of dark brown striped pants that have a cord on their waist to tighten the fit. She buys a light green scarf.

When I see her later that night at the Keet she is a different person.
She seems to have swallowed her earlier self. She wears the clothes we bought. She is quiet and reserved. She doesn't talk to me, she doesn't look at me. She has a coffee and then steps out of the Keet into the Zone.

Schwenk, Anja's reality, 2009 (text from installation)