New work of performance art
Thursday, 14 August
Melbourne Art Fair
- on the free City Circle Tram (route 35)
6-9pm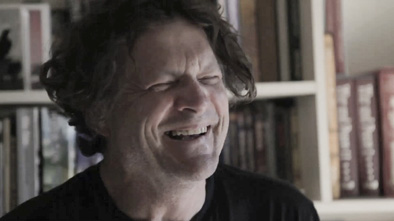 Sylvia Schwenk - World Domination, Still from video, 2014
World Domination is a fun and playful work of art that encourages laughter, whilst parodying evil, greed and the desire to control the world. It is a nonsense. It is a silly and carefree project that is happy and evil, playful and scary all at the same time.

World Domination aims to inspire happiness and laughter.


Call out for participation

If you would like to be a part of the performance
World Domination
, please email me at:
mail@sylviaschwenk.com
Here are some details for performers:
At the tram stop outside the Melbourne Art Fair: Carlton Gardens' Royal
Exhibition Building.
5.15pm on the 14th of August.
The performance will run from 6-9 pm.You are welcome to participate in the work the whole time or for just the first hour.
12th In the Palace Film Festival

International Short Film Festival
28 June until 4 July 2014
Balchik, Bulgaria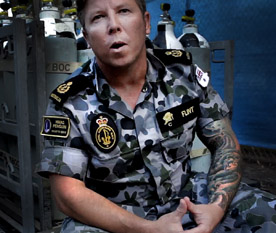 Schwenk, Still from a Naval Novella (10 minutes loop)
This is the European Premier of Naval Novella - a film that demystifies the Navy breaking down some of the barriers that exist between Defence personnel and civilians. The film shows the human side of the Navy uniquely allowing people to access a closed culture in an inviting way.

The work is anchored by the naval tradition of tattoos and gruelling physical training done with 'the rope', a symbol of union, mateship and stability. Short stories by people who talk about their tattoos are an important part of the film.
Group Show
9 May until 15 June 2014
Araluen Arts Centre, Alice Springs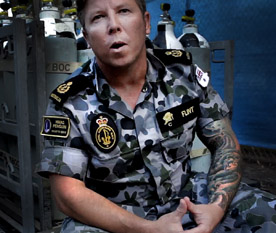 Schwenk, Still from a Naval Novella (10 minutes loop)

The 38th Alice Art Prize is a national contemporary art award. The exhibiting artists were selected by Dr Michael Brand, Director of the Art Gallery of NSW. The winner will be announced on 9 May.

I will be exhibiting a Naval Novella a film with interviews, physical workouts and anecdotes presented as a revealing and engaging work filmed at HMAS Penguin, Australia.
Josephine Ulrick & Win Schubert Photography Award

Group Show
29 March until 28 May 2014
Gold Coast City Gallery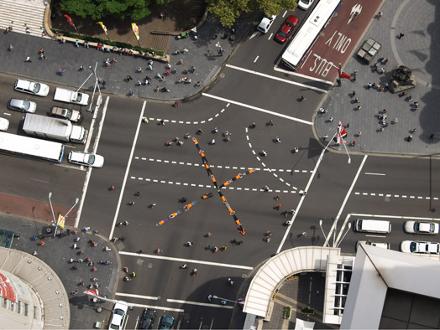 Schwenk, X Performance Sydney
The Josephine Ulrick and Win Schubert Photography Award is considered one of the most important annual surveys of contemporary Australian photographic practice. The exhibiting artists were selected by Natasha Bullock, the curator of Contemporary Art at the Art Gallery of NSW.
This is the 3rd time I have been selected for the Award.

I am exhibiting X Performance Sydney. This photograph is from a body of work known as X Performances - ephemeral large and individual Xs that are made of human bodies in the middle of road intersections and important shared public spaces.

X Performance Sydney has been photographed from the rooftop of a 50 storey building, in a way that gives the work a feeling of aerial surveillance – a small reminder of the level of surveillance our society is subjected to, and a prompt for us to think about what the loss of privacy that accompanies this heightened scrutiny may mean. X Performance Sydney is also a reclamation of the streets and the freedom of expression. The symbol X means so many different things to different people. In various contexts X is an indicator of where the treasure lies; the spot where a bomb should be dropped; a place for a signature or in this instance the coming together of people – a union in the middle of one of Sydney's busiest intersections.
GrensWerteWeltAusstellung

Group Show
21 March until 13 April 2014
Kloster Bentlage in Rheine, Germany

Schwenk and Dicke, Origami Crane Performance Performance - Interactive installation with 3 channel DVD with sound (3 minutes loop)

This exhibition showcases selected works from the European Union's Grenswerte program which promotes cross-border artistic and cultural art projects in the German-Dutch border region.
The Grenswerte program commissioned 10-15 art projects each year over the period 2010-2014.

I exhibited an interactive installation with a three channel DVD work from birds and clouds from one life to another, which was created with the German artist Nikola Dicke.
birds and clouds from one life to another is a work of participatory performance art that references Bertholt Brecht's poem The Lovers that centres on the lives of a flock of cranes. During the event three model plane clubs from Germany and Holland flew as a large group, echoing the flights and movements of birds. The artists also led the audience and some of the pilots in origami workshops, folding small paper cranes and creating large crane sculptures, which were later 'flown' over the green fields. The Model plane performance, the Origami workshop and the Flight of the cranes were choreographed and performed to music written for the project.
Group Show
1 to3 November 2013
Contemporary Art Ruhr (CAR 2013) in Essen, Germany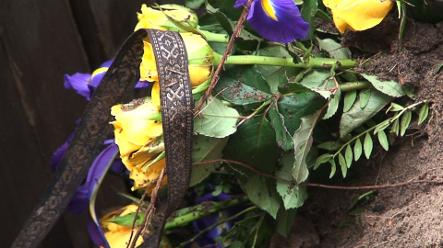 Schwenk, Still from A shared space (5 minute loop)
My film A shared space was screened at Contemporary Art Ruhr (CAR 2013) an innovative contemporary art fair, at the invitation of the Directors Lounge Berlin Festival.

A shared space, based on real life, gives a rare insight into what happens before and after a funeral service. This film opens on a graveyard on a beautiful serene sunny day. Grave diggers are working in a quiet, harmonious way with almost choreographed movements, preparing a grave for a burial. The birds are chirping, the sun is shining - but all is not as it seems - there is a twist.

A shared space premiered at the 9th Berlin International Directors Lounge Festival.